Safety and Comfort
The MF-boat is built to high strength in all details.  The rig dimensions are generous, so you don´t need to worry when the wind picks up.  The mainsail is reefed in just a few simple operations, to reduce the area with about 4 m2. The boat sails and turns easily with only the mainsail set, very handy in harbours. The 525 kg ballast, together with the high form stability of the hull makes the boat feel very steady.
The CE-marking permits four persons onboard/max weight of 365 kgs. There is plenty of space in the spacious cockpit, which is actually larger than those of the Folkboat and the IF-boat. The cockpit is quite deep, for good safety with children onboard. The coamings are angled on both sides and there are no sharp corners; everything is neatly rounded.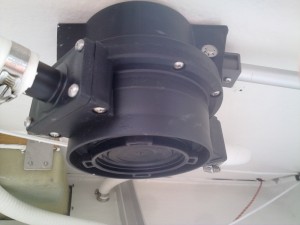 Bilge pump mounted under the after deck
The anti-slip treated deck is fitted with a teak toe-rail for safety.  The helmsman´s seat is made of teak and shaped to give comfortable seating whether you sit to leeward or to windward when steering. The deck area around the cockpit is wide , perfect to sit on. The rounded coaming top also gives a nice comfort. The smart center console  on which the mainsheet traveler is located also facilitates space for compass or GPS, and hides the adjustment lines for the backstay and the pump, which is fitted under the aft deck and has high capacity.  In the cockpit there are two stowage lockers where a battery for an electric outboard engine can be placed. Below the cockpit there is room for anchor, chain and rope.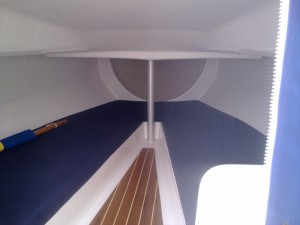 Inside the cabin there are two 2,2 meter long berths if you get the idea for an overnight sleep in a cosy harbour. There is also room for a fridge box or similar. Below the berths there are also space for stowage, as in the bow and stern. In the transom on starboard side is a detachable safety ladder fitted in a recess.
The rescue ladder hides neatly in the transom