A classic daysailer
The Nordic Folkboat was designed in 1941 by  Tord Sundén and the prototype was tested by the designer himself in april 1942 on the classic waters off Långedrag, near the city of Gothenburg.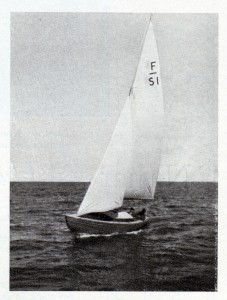 The Nordic Folkboat sails for the first time in april 1942 with her designer at the helm
Comments were slightly ironic, judgements like "pile of planks" and the like were heard, but the boat became a success as we all know, not only because of her completely mellow design and her stunning performance, but also because she was introduced precisely at the right moment  – something similar that could be purchased to a modest price did not exist in a time when sailboats were long and narrow. Probably more than 5000 folkboats have been built worldwide.
1967, 25 years later, it was time again: the first IF-boat, also designed by Tord Sundén was on sailing trials february 4, on the same waters off Långedrag, Gothenburg, now with the designer and his two sons Jörgen and Sture onboard.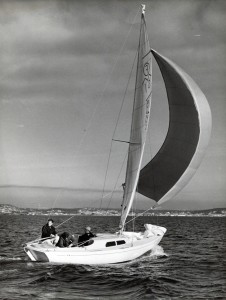 The first IF-boat on trial february 1967

Success – again! The  IF-boat was also launched exactly at the right moment: when the GRP was about to take over as the major construction material for boat production. The IF-boat has been made to a number of over 4000.
2010 we presented the yacht that follows the style of its predecessors: MF or the "mini-folkboat" as it is already called. It is smaller and lighter, but with the same classic lines –  beautiful and  looking very smart on the water! Designed by Sture Sundén with all the family experience put together and built by Nicanders Båtvarv!
We all know what a Folkboat looks like. Classic scandinavian design: Clinker-built  topsides. Elegantly curved stem. 45 degree transom. Jumpers on the mast. A timeless look in total harmony.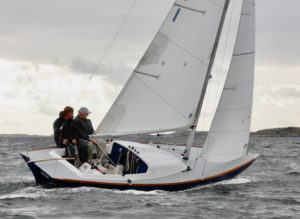 Photo courtesy: Tommy Ekerum
Nicanders Båtvarv
The Nicander brothers, Mikael and Thomas have long experience of building quality boats. The tradition goes back some generations in their family.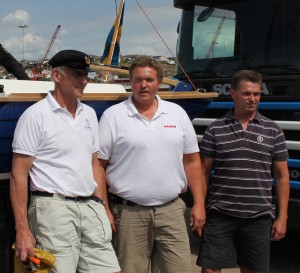 Sture Sundén, Mikael Nicander and Thomas Nicander