Design & Construction
The latest technology in CAD-modelling has been used for developing the production tools , as well as full-scale CNC-milling of the models. Perfect, equilateral moulds with superior finish is the result. The hulls have excellent finish, high gloss and even surfaces.
Hull shape: The MF-boat could eventually be mixed up with the Nordic Folkboat when afloat. The clinker-built topsides, the proportions of the sail plan, freeboards, transom etc are very similar.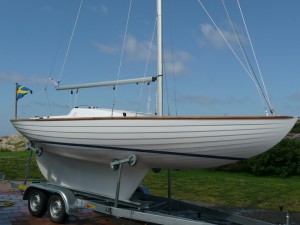 The clinker-built topsides generate a nice sound……
Below the waterline however, the hull body is more shallow and and the sections are much less V-shaped in comparison. The underwater shape is actually comparable with many modern hulls. The long keel-tradition has been brought forward, primarily because it makes the boat more forgiving and makes it hold it´s course easier. The keel is also less fragile if you should  happen to run aground. The large rudder, mounted on the transom makes the boat easy to manouvre also at low speed. The keel configuration also makes the boat easy to take ashore and to transport.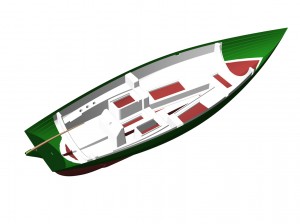 MF Comfort with innerliner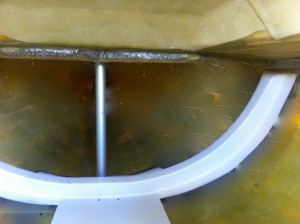 MF Sport with local reinforcements – here at the mast
Structure and strength: The hull is layed up in single-skin fiberglass laminate, and the ballast weight of 525 kgs is bonded into the keel fin. The fin has a much thicker laminate than the topsides. The clinker-built topsides contributes to hull stiffness.  The MF Comfort has an innerliner with integrated frames and stiffenings that make up for the total strength of the hull. The innerliner  is partly made of sandwich laminate to increase stiffness further. The MF Sport has no innerliner, but there are local stiffenings where the load is high, such as in way of mast and cockpit.
The deck is made of foam sandwich laminate and is also bonded to hull and innerliner. There are also local stiffenings in way of shrouds and mast. The rudder is made entirely in fiberglass sandwich construction and has integrated hinges. The latest technique to produce the moulds have been used. CNC-milling of the models gives an accuracy that you could only dream about some years ago.
Rig and sail plan: The three-quarter rig is simple an easily tuned. The mast is relatively stiff , in order to avoid too much slack on the lee shrouds when sheeting the mainsail hard in heavy air. The sailplan is generous and the large mainsail makes the MF-boat fast downwind even without a spinnaker. The jib is slightly overlapping the mast and has a roach and 2 battens. There are two spinnaker sizes 37 m2 and 22 m2.
Quick and easily driven downwind – with or without spinnaker!  Photo courtesy Tommy Ekerum.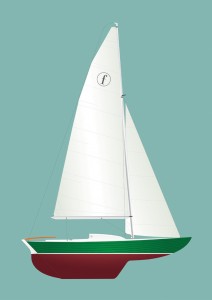 Specifications:
| | |
| --- | --- |
| LENGTH OVER ALL | 6,80 METRES ( WITH RUDDER 7,00 METRES) |
| LENGTH IN DWL | 5,40 METRES |
| BEAM | 2,05 METRES |
| LOWEST FREEBOARD | 0,50 METRES |
| DRAUGHT | 1,00 METER |
| WEIGHT, LIGHTSHIP | 1125 KGS |
| BALLAST WEIGHT | 525 KGS |
| MAINSAIL | 14,8 M2 |
| JIB | 6,2 M2 |
| SPINNAKER & GENNAKER | SP = MIN 22/MAX 37 M2;G=29 M2 |
| RIG DATA | P=7,80 M; E=3,20 M; I=5,82 M; J=1,95 M |
| MAST HEIGHT OVER WATER | 9,5 METRES |
| DESIGN & ENGINEERING | STURE SUNDEN |