Equipment
Read about all that comes with the boat as standard and how you can customize your MF-boat according to  your own taste and needs.
Standard equipment:
Gunwhale and toerail in teak – MF Comfort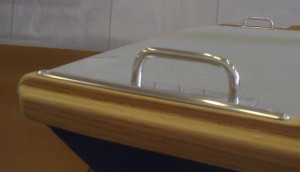 Stemhead fitting and stem rail – MF Comfort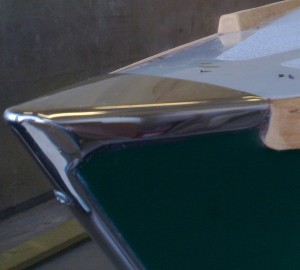 Gunwhale and stemhead fitting in rubber – MF Sport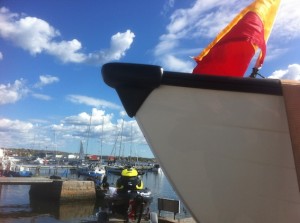 Rudder with teak tiller and tiller extender. Cabin and cockpit coamings white. Deck grey with anti-slip areas. Innerliner white. Mast supporting aluminium pipe.
Interior details MF Comfort: Curved, ergonomic helmsman teak seat, stowage starboard and port  with  lockers, floorboards in teak, 3 lockers in berths. Anti-slip areas on cockpit floor.
Fixed bilge pump. Safety ladder mounted in transom.
Deck gear: Stainless chainplates, mooring cleats fore and aft, adjustable backstay, jib sheet with ratio 1:2, track & traveler for jib sheeting, mainsheet 1:4 ratio, adjustable mainsheet traveler, ratchet lead blocks for jib sheet, cam cleats for halyards and kicking strap.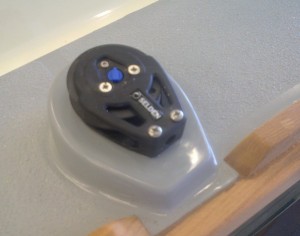 Rig from Selden Mast. Mast and boom in anodized aluminium.  The mast has a hinge fitted at the step so it could be dropped aft. Mast is tapered above the jumper struts. The boom has internal adjustments with ratio 1:3 for the mainsail foot. Gear for reefing of the mainsail. Standing rigging in stainless wire with rigging screws on shrouds. Backstay with flexible top batten, running rigging. Kicking strap ratio 1:8. Sails: Mainsail 6,0 oz dacron crosscut with reef. ( reduces the area with 4 m2) Jib 6,0 oz dacron crosscut.
Extra equipment:
Customize your MF- boat at your own choice:
– Hull dark blue or dark green with white waterline belt.
– Cockpit cover, tailor made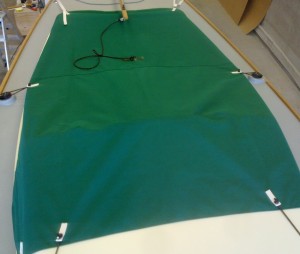 – Mainsail cover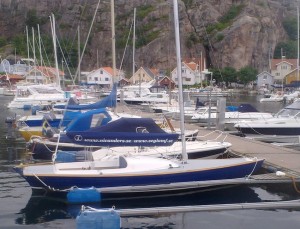 – Cover for the cabin opening, with zippers.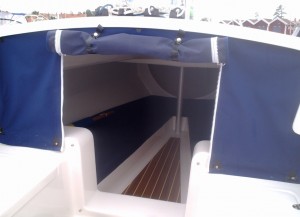 – Bulkheads for cabin opening. Can be combined with detachable hatch made of teak with upper part of plexiglass.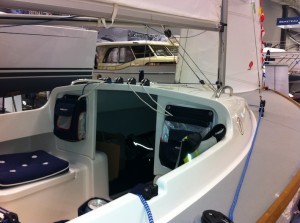 – Table in teak,  detachable, to be fitted on the mainsheet console
– Cushions for berths covered with  water repellent cloth.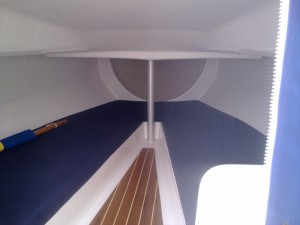 – Spinnaker pole ( doubles as jib pole), Seldén Mast, length 2500 mm.
– Spinnaker gear: Sheets, halyard, lift, downhaul, tweakers. A installed with blocks and cleats. ( see pictures under TUNING)
– Anti-fouling paint treatment below the waterline
– Transport cradle
–  Electric outboard engine installed in rudder, complete with battery and wiring installed.
– Electric inboard engine installed under the center console. Propeller installed in the stem just forward of the rudder. A fiberglass cover can be fitted over the propeller area when the propeller has been removed, to obtain a smooth bottom for racing. Charging equipment installed below deck.
– Bracket for petrol outboarder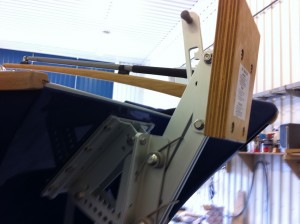 Please contact us for prices.