An uncomplicated, powerful racing boat!
At the first glance, the MF may look like a traditional cruising boat, but the fact is that she is an exciting racing boat whether for fleet racing, match-racing or handicap racing. She is powerful upwind and very fast downwind under spinnaker. Perfectly balanced helm on all points of sail and a surprisingly small turning radius.
Our ambition is to promote a one-design racing class at club racing and national level ( primarily in Sweden) to facilitate championships like Nationals and so on. Our first target is to get the class rules sanctioned by the Swedish National Racing Association. ( SSF)
The MF has  a simple rig without running backstays, with only a jib foresail. The mainsail has a "fat" head with the top batten beeing full length. Even the jib has a roach and battens.
The spinnaker is masthead hoisted, which means a large surface, 35 square meters. This may seem a lot, but the MF is very stable downwind and easily carries the spinnaker in more than 20 knots of wind. The distance between the clews is 4,80 meters and the pole is 2,50 meters which enables the spinnaker to be sheeted far to windward. The jib can be left hoisted on downwind legs as it does not disturb the spinnaker.
The crew number may be 2 or 3 depending on weight.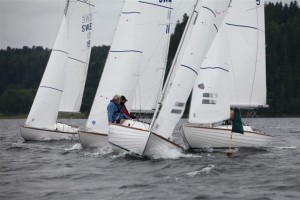 The MF is equipped for efficient and safe racing. The deck around the cockpit is perfectly sized for seating. The control lines on the cabin top and on the center console are easy to reach. Good foot support when heeling and the deck and cockpit sole has an effecient anti-slip pattern. Foot straps are allowed, which is a sound safety detail.
The MF-boat: Stiff, fast, easily driven, precisely balanced – and perfectly designed for efficient handling!
The class rules are strict but not rigid. No standard fittings must be moved or changed. ( only the same type may be fitted) However, there are possibilities to extend the equipment. As examples, spinnaker gear can be positioned at choice and  jib furler and mainsail luff travellers can be fitted. Sail brand is optional, even if the MF normally is supplied with sails of our own brand.
Only 1 mainsail, 1 jib and 1 spinnaker is allowed onboard when racing.
Download the class rules here: Class rules ENG.doc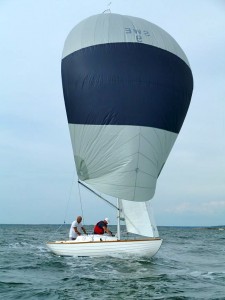 Masthead-hoisted spinnaker at 35 sq. m. make the downwind legs more exciting!