When the wind dies
ELECTRIC  DRIVE IN THE RUDDER BLADE!
Now we can install an electric drive in the rudder. The cables run inside the rudder up to the top where they disappear below the aft deck. Charger is also placed under deck. The control for the engine speed can be placed anywhere in the cockpit.The battery is placed centrally, over the ballast keel. A device to prevent the propeller is rotating when sailing is also fitted.
Electric drive mounted in rudder blade
ELECTRIC INBOARD ENGINE
Alternatively, a lightweight electric inboard engine drive can be installed. This is a more powerful solution than the outboard version. The batteries are placed over the ballast keel. The cutout for the propeller is only made in the sternpost, the rudder is not affected. For racing, the propeller can be removed and a GRP cover is fitted.
Electric inboard engine mounted under the cockpit center console (left) and propeller cutout (right)
PETROL OUTBOARD ENGINE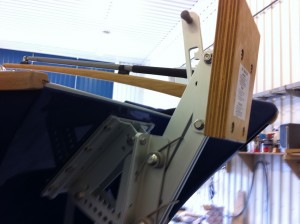 Bracket for petrol outboard engine mounted on transom.